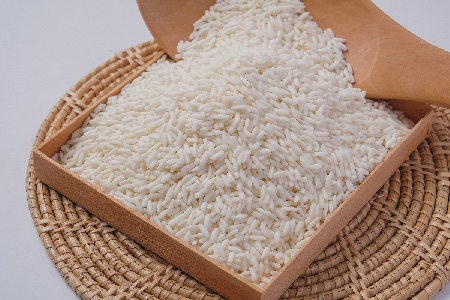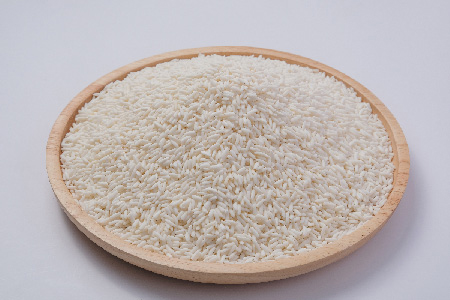 White Glutinous Rice
Glutinous rice or sticky rice is one of the hallmarks of Thai cooking. This strain is commonly called Kiaw Ngu in the local market. Easily identifiable by its milky grain texture, this grain can be used in both conventional meals as well as desserts. It finds its roots in the North and Northeast of Thailand where the locals prefer sticky rice over the popular long grain white rice. A favorite of tourists in Thailand is mango sticky rice. Our sourcing emphasizes whole grains and sourcing from the north of Thailand. The soil's special attributes and high-altitudelocation make for a longer lasting stickiness. This variety is harvested once per year. b.Sanpatong glutinous rice or sweet rice is found only in Thailand's Northern province, Chiang Mai. It makes an excellent choice for a wide variety of dishes ranging from accompaniments to proteins or desserts. Sanpatong glutinous rice is identifiable by its distinctively long and white gains. This strain is harvested twice per year.
| | |
| --- | --- |
| Vacuum Seal Bags : | 1Lbs, 1Kg |
| Plastic LLDPE Clear Bag// With or without handle : | 1Lbs - 10Lbs, 1Kg - 5Kg |
| Polypropylene (PP) Woven Bag// With or without handle : | 10Lbs - 1000Lbs, 5Kg - 50Kg |
| Polypropylene (PP) Sacks : | 1,000Kg, 1MT |
| Container Liner : | 20 - 25 MT |
White Glutinous Rice Hom Mali Jasmine Rice Brown Hom Mali Jasmine Rice Jasmine Fragrant Rice White Rice Parboiled Rice Riceberry Rice Red Jasmine Rice Black Glutinous Rice Japonica Rice SS. ROYAL SUPPLY CO.